As e-commerce volumes surge, contract-logistics companies face increasing complexity. How can they capture more value in a $ 600 billion opportunity? McKinsey looks at market opportunities. McKinsey projects that the total value of omnichannel distribution will continue to grow 7 percent every year, from $ 600 billion in 2019 to $ 840 billion by 2025.
Consumer goods and retail make up almost half of the logistics market, and the rise of e-commerce has driven up demand for omnichannel distribution, which depends on a single inventory-management system to fulfill orders from both traditional stores and e-commerce.
In the United States, Amazon is estimated to account for 60 percent of the e-commerce third-party logistics market. With 430 warehouses worldwide and an additional 100 Amazon Prime Hubs near city centers. Additionally, McKinsey sees well-funded start-ups entering omnichannel logistics to operate e-commerce warehouses and offer fulfillment software with strong platform IT and predictive data.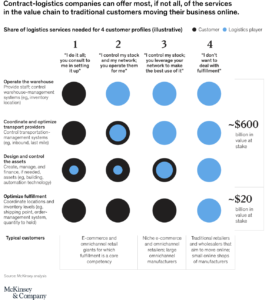 The levers for success are: warehouse automation, contracting for high capital expenditures with volatile volumes, multi-customer networks, IT integration and advanced data analytics, and last-mile delivery.
Source: McKinsey