City logistics transport became a specific research topic as the general awareness of the increasingly negative effects of freight delivery activities on local liveability grows. The awareness for external costs (congestion, emissions, noise and road safety) grew. As a result, (local) authorities implemented specific city logistics policies. Often, these limit the free, flow of traffic, put limits on (un)loading activities and limit urban road capacity.
An under-investigated opportunity is the use of waterways for city logistics delivery purposes. There are a few Europe projects using waterways for city logistics. E.g. construction materials in London, Amsterdam, Brussels, Gent, and Paris. Gothenburg is testing waterways for city logistics (See picture below).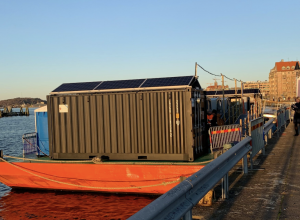 In Amsterdam, there are several companies offering logistics services to construction companies using the Amsterdam canals. They work together in the project 'Amsterdam Vaart'. Also, the Amsterdam canals are used for parcels by DHL Express and to collect waste by Mokum Mariteam. Waterborne transport can be a cost-effective and efficient method of moving a range of goods and commodities.
Walther Ploos van Amstel, professor in Citylogistics at Amsterdam University of Applied Sciences, presented the lessons learned of these projects in Amsterdam and future research challenges for the Climate Friendly City Logistics in the Nordics conference. Click here to download the presentation.