Cargo bikes are emission-free, environmentally friendly and low-noise vehicles. Cargo bikes have the potential to contribute to CO2-neutral city center logistics. Cargo bikes can also help reduce air pollution. Cargo bikes can make effective and economical logistics concepts possible, especially in the growing area of small consignments such as parcels.
Bicycles and cycle logistics have established themselves in the public discourse on the design of urban transport and urban logistics. However, the specific knowledge about the diversity, functions and special features of cycle logistics with a focus on the last/first mile is still limited. Pilot projects in German cities show that cycle logistics concepts can be successfully implemented, but so far there is a lack of generalized planning knowledge that allows the establishment and scaling of cycle logistics systems beyond the pilot status. There is a lack of tools for urban planners.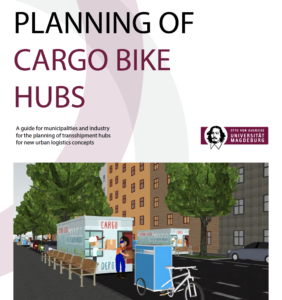 In the "Cargo Bike Hub" project, the Chair of Logistics Systems and the Chair of Environmental Psychology at the Otto-von-Guericke University of Magdeburg dealt with concrete questions concerning the implementation of transshipment hubs in urban areas. The resulting guidelines are addressed directly to urban planners and has the goal, to provide a basic overview of cycle logistics in the last/first mile to support the implementation of transshipment hubs for cycle logistics for parcels as a blueprint for municipal planning with logistics experts. The guidelines present recommendations from a logistical, traffic and acceptance point of view on the implementation and design of the components of cycle logistics and present recommendations for the long-term planning and improvement of the framework conditions for cycle logistics.
This guide focuses on the fast-growing courier, express, and parcel (CEP) market and its logistics players. However, many of the findings can also be transferred to other areas or generally to urban, transport and logistics planning for facility services, asset management, construction, and HoReCa logistics.
Source: Cyclelogistics