The DenCity project has taken on the urbanization challenge to develop transport and mobility solutions for future dense urban areas in Scandinavia. Urbanization implies an increased competition for the attractive urban space as well as increased impacts on the environment and human health as more people and goods must be transported using the same urban infrastructure.
DenCity project
For 2,5 years, the DenCity project has developed, tested and evaluated innovative solutions for future, dense cities; opening up for business opportunities and scalable solutions both nationally and internationally. More specifically, the project has developed electric distribution trucks, solutions for transporting goods and waste on urban waterways, service development for both passenger mobility and last-mile deliveries, as well as planning for needed physical and digital infrastructure.
The overall objective is that the solutions developed will result in reduced congestion and environmental effects, new products and services as well as increased quality of life.
The synergy between transport of people and goods
Decisions made within urban planning have a direct effect on the transport of both people and goods. Traditionally, freight transport is not included in the urban planning process to the same extent as passenger transport. Since the way of planning cities is changing, it becomes more and more important to take a holistic perspective on transport and to include all different modes of transport, for people, goods, services, and waste. As an example, cities are now planning for a lower number of trips with private cars in favor of public transport, biking and walking, which implies the need for more home deliveries and other services.
Cities are dynamic places, and we are in the middle of a rapid transition period where new technologies and services (digitalization, automation, connected solutions and electromobility to mention a few) are altering the transport sector, as we knew it with strong implications for transport patterns in urban areas.
The densification of cities leads to complex challenges related to transport. At the same time, new urban development projects open up for new forms of collaborations to test and develop innovative solutions and processes. In the DenCity project, actors from city- and transport planning authorities, transport providers, transport buyers, OEMs, IT-industry, start-ups, real estate developers and academia developed solutions in close collaboration, integrating their different perspectives and experiences. This unique approach, integration of goods- and passenger transport in several demonstrations and urban planning processes increases the chances of succeeding.
Solutions
One of the key targets of DenCity is to consolidate the fragmented urban transport operations and to develop transport solutions that integrate goods, waste and passenger transport. The solutions developed should offer a high quality of service to receivers, be efficient (in terms of space, time and resources) and sustainable (in economic, social and environmental terms).
Furthermore, the solutions should focus on the entire urban transport chain and take their starting point in solving the "life puzzle" for people living and working in cities. This integrated approach can help to minimize the need for private car ownership through smart mobility- and logistics solutions, developing broker solutions for mobility and delivery services utilizing the same digital and physical infrastructure.
Results
The DenCity project has developed, tested and evaluated the following solutions:
Zero emission transport:

Electric vehicles for distribution of food in cities, enabling efficient zero-emission deliveries in terms of noise, emissions and particles and enabling new ways of delivering goods, for example, silent deliveries during off-peak hours which means more space for people during the day.

Urban waterways:

Development and test of a multimodal transport chain including barge, cargo-bike and small electric vehicles in order to make use of the largely un-utilized infrastructure (waterways) in Swedish cities.
Enabling infrastructure for dense cities should include the development of mobility solutions and their integration in the urban planning process, business model and blue-prints for an Urban Consolidation Centre, servicing an entire urban area with consolidated goods and waste transport and a digital platform integrating mobility and delivery services for people living and working in dense urban areas.

Urban deliveries and services:

Development and preliminary testing of a last and also for the first mile distribution concept enabling consolidated e-commerce parcel flows by use of a neutral delivery infrastructure in real-estates.

System integration:

Integration of the different solutions into a collective transport system as well as the integration of freight into the urban planning process. Collective solutions require an urban logistics infrastructure, which in turns requires an urban planning process, which takes the long-term development plans into consideration.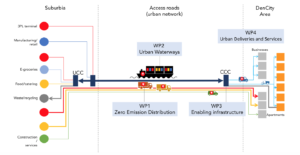 Collaboration between different actors
During the initiation phase and second phase of the DenCity project (2015 to 2018) it has been confirmed that the different professions involved, in this case, city planners, traffic planners and freight professionals are traditionally working in "silos", with little or no interaction.
The collaboration arena that projects like DenCity provides, is one way of opening up the borders between different authorities and involved organizations, increasing the knowledge sharing, creating a dynamic collaboration environment and, in the long run, enable more efficient planning. Furthermore, innovation projects where several actors are involved and together implement innovative solutions, contribute to increasing the awareness of the addressed issues.
Overall, the project and its developed solutions have raised a lot of interest from different actors, which in itself indicates that the targeted problems, as well as the proposed solutions, are relevant. The solutions developed are at a different technology-readiness-level. However, no major obstacles have been observed which indicates feasibility to move forward to an implementation phase.
From a system perspective, it is clear that the solutions benefit from not being developed in isolation, and in particular that an integrated city and transport planning, involving multiple types of actors, is needed to develop efficient solutions.
Demonstrations
However, such a way of working does not happen overnight, but this project hopes to contribute to this development. The challenge for cities is to implement a planning that enables new technologies and services, and stakeholders from academia and industry must together with the cities show how these technologies and services can be used. In order to do this, demonstration of new solutions and business models for urban mobility is an important part of the transition to a sustainable system as it provides valuable information to involved actors.
By performing successful demonstrations combined and in small-scale, this project has shown that it is feasible with new alternative solutions to meet the need of sustainable transport of goods and people in dense cities.
Source: DenCity Final Report