In the evenings between 6 and 9 pm, hundreds of meal attendants make residential areas unsafe on their scooters and bicycles. Home meal delivery drivers on scooters drive more dangerous than other scooter riders. Data from Dutch Veilig Verkeer Netherlands (VVN) show that they are even six times more likely to be involved in road accidents. 
VVN calls on local authorities and meal delivery organizations to 'curb' the problems with delivery scooters. 'Road safety can be improved by offering delivery staff a compulsory course to stimulate them to examine their own driving behavior, ' VVN director Alphons Knuppel explains.
Not only the frequency of accidents is higher, but the average damage amount is also 75% higher. The latter is due to relatively more accidents with causalities. There are no data available about unsafe behavior of meal delivery drives on bikes.
VVN is offering even more solutions to reduce the road safety problems of meal deliveries. For example, by limiting speed or using more delivery bumpers. You can also deliver deliverers per hour instead of per delivery. According to VVN, the switch some meal delivery companies make to electric delivery scooters and bikes is a good time to implement the changes.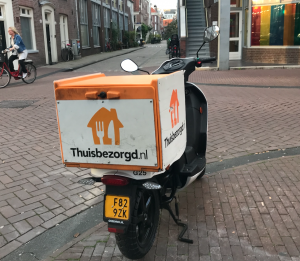 Alphons Knuppel: 'Not in the last place because other road users do not hear the electric scooter coming. Tests have shown that the batteries of the delivery scooters last much longer if the delivery drivers display an efficient driving behavior. At the same time, this is also good for road safety.'