Over 110 innovative solutions for decarbonising EU transport were submitted for the European Transport Innovation Challenge 2017. The 12 winners offered solutions in a wide range of transport applications; futuristic systems for moving people and freight in cities, services for people with reduced mobility and emergency services, a robot platform, parking, railway and cycling.
The awards were presented on 19 June 2017 by Maja Bakran (Deputy-Director General of the European Commission's Directorate-General for Mobility and Transport) at the Winners' mentoring workshop held in conjunction with the European ITS Congress in Strasbourg.
Some interesting solutions on city logistics are:
The Carla Cargo is a new concept of a 3-wheeled bike trailer with overrun brake and electric engine support. It can be driven as an E-Bike attached to your normal bike or used as an electric handcart which can be preferable in crowded areas. The trailer is running with more than 30 pilot customers and is already demonstrating the ability to carry heavy or voluminous goods. Some customers have already stated that they could stop using cars for delivery.
A big advantage of this concept is that you can use it as a handcart detached from the bike which brings a huge flexibility in the last metres. An additional benefit is the very simple concept. There are no complex mechanical parts and everything is easy to understand. At this moment Carla Cargo is ready to be scaled up.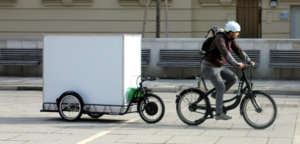 We need radical steps towards a low carbon transport system in Europe. UPsET is a system of underground pipelines to handle deliveries in dense urban areas. UPsET offers a solution for the challenges of the many (inefficient) package delivery/commercial vehicles for private customers.
UPsET would save companies' time and customers' frustration with the effort of a slight behavioural change. UpsET increases the quality of life for many urban areas as they transform into being places for people again and not for cars. Our society saves costs by having less congestion, the system eliminates tons of carbon emissions and noise pollution, and simultaneously increases the air quality.
UPsET is intended to be a budget friendly system with 80 cm diameter pipelines. The complete system would occupy the space underneath one side of a two directional cycling track. It will regenerate the existing bicycle lane infrastructure system. Central parcel output and input locker stations are accessible with a digital key to receive your package. The only thing customers need to change is the three minute walk to their nearest UPsET station. That is the same change people had (or will have in the near future) when the underground 'waste' separation containers were installed in their neighbourhood. Let's go UPsET.
NÜWIEL produces e-powered bicycle trailers for last mile delivery. Our trailer can be connected to any bike and carries up to 100 kg. Delivery by bike is 50% faster than by trucks in urban centers, saves up to 85% on fuel costs and CO2-free.
Disconnected from a bike the trailer can be used as an e-powered handcart. Our patent pending technology provides a synchronized motion between a bike and a trailer. In other words, the trailer knows exactly when to speed up, slow down and brake. The innovative brakes system of the trailer consists of double brake system (regenerative activated by the motor and the overrun braking), thus providing a higher safety on the road.NÜWIEL has built and tested four prototypes of the trailer. At the moment, NÜWIEL works with four partners from Hamburg and Berlin to finalize the trailer design.