In more and more cities pedestrians are reclaiming the city. They want clean air, healthy neighbourhoods safety, less noise and most of all: a space to enjoy! The next years urban planners will work on walkable cities. This will have a big impact on the design of cities and residential areas and the way companies deliver. 
Effectively understanding and measuring the complex ecology of walkability has proven challenging for many organisations and governments, given the the number of actors (with often conflicting criteria) and the various levels of policy-making and implementation involved.
Institute for Transportation and Development Policy
In order to expand the measurement of walkability to more places and to promote a better understanding of walkability, ITDP (Institute for Transportation and Development Policy) has developed Pedestrians First. This tool will facilitate the understanding and the measurement of the features that promote walkability in urban environments around the world at multiple levels.
With a better global understanding of walkability, and more consistent and frequent measurement of the walkability of urban environments, decision-makers will be empowered to enact policies that create more walkable urban areas.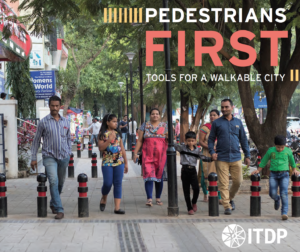 Source: ITDP