This year the Mayor introduced the Ultra Low Emission Zone (ULEZ), where drivers of older, more polluting vehicles will now be charged to enter the congestion zone area at all times. This is part of a wider effort from the public and private sectors alike to tackle the issue of air and traffic pollution across London.
Across the West End and Mayfair, the New West End Company has been focussing on efforts on increasing recycling, reducing traffic and improving air quality across the district. They have teamed up with West End property owners to reduce the number of delivery and waste collection vehicles on the streets. New West End Company is a global business partnership of 600 retail, restaurant, hotel and property owners in the world's top shopping and leisure destination. They work across 74 streets, anchored by Bond Street, Oxford Street, and Regent Street, representing 150,000 employees.
In Westminster alone, it is estimated that 40 different companies collect commercial waste, contributing to the increasing number of vehicles on the street. To consolidate this, the New West End Company selected three preferred supply services for our members to choose from. The more companies that use the same suppliers means fewer vehicles in the district and better air quality for all.
Results of Bond Streel trial
Following a trial on Bond Street last year a 94% reduction in daily waste and recycling vehicle movements, from 144 per day to just 9 was shown. This, combined with a 67% reduction in waste bags left on pavements and a 17% reduction in kerbside vehicle stops, has already shown a vast improvement to the street. For businesses themselves, the reduction of delivery and collection vehicles has reduced security risks and increased the efficiency of property management services.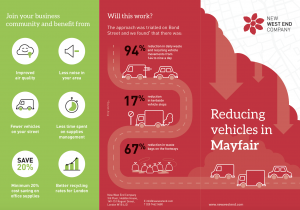 Waste and office supplies
The New West End Company is recommending businesses either use the services provided by Westminster City Council, or First Mile for their waste and recycling and Anglo for their office supplies. These suppliers have been selected based on their clean credentials, including that they use cleaner, less polluting vehicles, and that none of their waste goes into landfills, but is either recycled or used to produce energy. An added bonus is that they already operate in the West End and Mayfair, and aim to match the prices of existing suppliers, meaning no extra costs for businesses. Participating businesses will also benefit from a free personal delivery service, using electric vehicles for three months.
Source: New West End Company