As a co-creation hub for innovations in how cities are supplied, the City Logistics Innovation Campus (CLIC) will work to improve urban livability in the Amsterdam Metropolitan Area. Plans have been presented to create Europe's first urban logistics campus in the Amsterdam Area. The 120,000 square-meter City Logistics Innovation Campus (CLIC) will be a hub for innovations to help make the city region more liveable.
More than €250 mln is being invested in the planned hub, which will work on projects to help sustainable city logistics. Set to be constructed at business park Lijndenhof in the municipality of Haarlemmermeer, the CLIC institution will work to streamline vehicular movements related to businesses, supermarkets, construction sites, and deliveries to make them more efficient.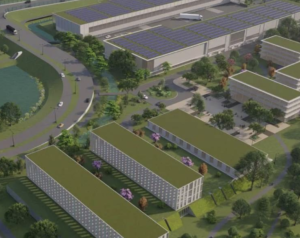 A flexible, sustainable city logistics hub
CLIC will facilitate innovation by bringing together all stakeholders – from source to end delivery – with food, non-food and express companies working together with automotive, energy, ICT, and logistics companies. Researchers and policymakers will also be involved in the full cycle of any project – from ideas with impact to proof-of-concept solutions, to fully operational applications.
The proposed green campus terrain will feature offices, business spaces, and logistic hubs that can be fully tailored to each company's individual needs and shared services, such as energy supply, park management, and hotel facilities. CLIC will also have its own sustainable energy-smart-grid to supply all the green power required to send an entire electric fleet into the zero-emission areas of the city.
Why space is needed in the Amsterdam Area
Welcoming the plans for the new hub, Walther Ploos van Amstel, professor of city logistics at the Amsterdam University of Applied Sciences, said: "Ninety percent of the transport of goods comes from outside the city. In addition, the companies where these goods come from are also spread out. This will be the power of CLIC: we can bundle capacity."
Around 30 to 40 Dutch cities have set the goal of establishing emission-free zones by 2025. However, only one percent of logistics is currently emissions-free. "There is actually a great shortage of suitable space on the edge of the city for proper city logistics. Without this space," explains Van Amstel. "You can't bundle goods together and deliver them with electric vehicles or cargo bikes. And if we don't do anything to solve this, then companies will not be able to afford to deliver to the city."
Amsterdam's long history of innovations in logistics
CLIC has chosen its location carefully: in the heart of the Amsterdam region's logistics corridor – besides a highway, opposite Schiphol Airport and at only 10 kilometers from the city centers of Amsterdam and Haarlem.
The campus is also building on the history of international trade and logistics in the Amsterdam Area which goes back more than 700 years. Today, Amsterdam's status as an innovation hub continues to benefit the local logistics industry. Close cooperation of government, industry, and universities and research institutes has improved the logistics chain by creating innovative solutions to a range of challenges.