The advancement of new technologies and the increasingly inseparable presence of logistics systems in the daily life of cities, industries, companies, and society has been modifying how logistics processes are implemented in these environments based on technological innovations, internet, virtual businesses, mobility, and the use of multi-channel distribution. Together with these changes, urban centers have been connecting to the smart city concept as the understanding of this theme advances into the debate and improvements in the agendas of either public or private management.
Recent research proposes a conceptual model for evaluating logistics maturity in the smart city dimensions. The method has a qualitative, exploratory, and descriptive approach, supported by the Delphi method, which uses a questionnaire and interview as a data collection instrument with specialists on the subject.
The researchers identified that qualifying logistics in the urban environment is complex and requires a specialized look at identifying cities' structural, geographic, regional, social, and environmental characteristics. As a social–technological contribution, the proposition of the logistics maturity assessment scale in smart city dimensions can serve as an evaluative model of logistics, which means helping in urban planning and strategic management of cities, offering smarter solutions to the realities of urban spaces.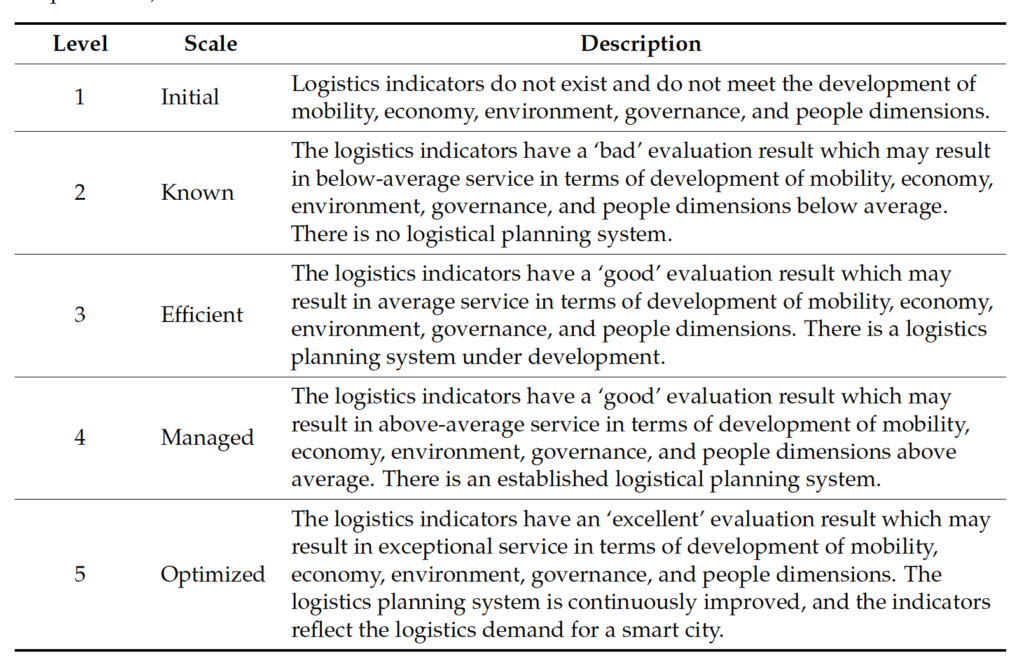 The evaluation of logistics in smart cities refers to issues linked to mobility, traffic flow, adequate transport, accessibility, reverse logistics, and technologies applied to devices related to logistics.
As recommendations for future work, further research may use the theoretical model in practice and several cities. From the results obtained with the practical application, an analysis can be made of how logistics influence the performance of cities in comparative rankings between smart cities. In addition, it will be possible to translate the importance of logistics for developing cities with more sustainable, humane, dynamic, and intelligent initiatives.
Source: Pereira GRB, Guimarães LGdA, Cimon Y, Da Silva Barreto LK, Hermann Nodari C. Conceptual Model for Assessing Logistics Maturity in Smart City Dimensions. Administrative Sciences. 2023; 13(4):114. https://doi.org/10.3390/admsci13040114