In a new paper, Cedric D. Koolen and Prof. Dr. Gadi Rothenberg outline the serious problems caused by air pollution in Europe. Using two types of metrics, level assessment, and trend assessment, they quantify the contribution of ammonia, NOx, SOx, non‐methane volatile organic compounds, and particulate matter in terms of years of life lost per capita and explain the connection between the various pollutants and their effects on human health and the environment.
The analysis is done based on data collected by individual European Union (EU) member states as well as by the EU as a whole. We examine general emission trends as well as sector‐specific emissions and discuss the effectiveness of current legislation in reducing health risks and environmental damage. By combining these results with a cost–benefit analysis, they show that a further reduction in NOx emissions is the most urgent and potentially the most beneficial.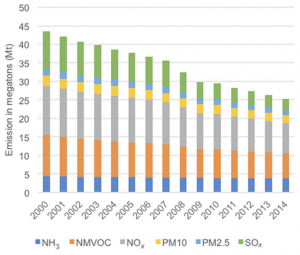 Impact of air pollution
A pollutant's impact must be measured by two criteria. First, the emission should be sizeable. Pollutants may be toxic to humans or bad for the environment, but if their exposure is low, so is their impact. Second, both direct and indirect effects should be considered. Yet even if a pollutant fulfills both requirements, stricter measures may not be needed, so long as current legislation has led to significant risk reduction. However, if the measures prove ineffective, or if the risk was underestimated, additional measures should be applied. The final criterion is cost-effectiveness. Emission control legislations will only be passed by governments that perceive them as cost-effective.
Specifically, they researchers conclude that further reduction in NOx emissions is the most urgent and most beneficial. By improving ambient air quality, NOx abatement will benefit both the public and the environment. As the technology required for NOx reduction advances, the gains in workforce and healthcare savings from NOx abatement will outweigh the costs of implementation.
NOx emissions declined by 39 % with the largest gain in the transportation sector as a result of the advent of cleaner fuels and better combustion techniques. The main polluting sector is still "Road transport: passenger cars". In 2014, it contributed 18 % of the total NOx releases in Europe. Other polluting sectors are "Public electricity and heat production" (17 %) and "Road transport: Heavy‐duty vehicles and buses" (16 %).
Source: paper, Cedric D. Koolen and Prof. Dr. Gadi Rothenberg