The University of Washington Urban Freight Lab released the results of a pilot study on Curb Allocation Change supporting easier and less disruptive passenger pick-ups and drop-offs by cabs. The study tested the traffic impacts of providing more passenger load zones paired with in-app geofencing technology that guided drivers and riders to designated load/unload locations.
Like all major cities, Seattle is grappling with how best to manage curb use, mobility, safety and congestion associated with the increasing use of ride-hailing services. Ride-hail like Uber and Lyft in the Seattle region has grown to more than five times the level it was at the beginning of 2015, providing, on average, more than 91,000 rides a day in 2018 with the majority of trips concentrated heavily in the city's densest neighborhoods.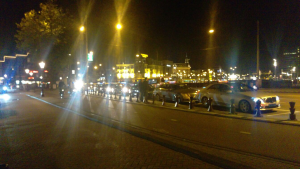 Key findings indicate that:
Discourage double-parking and reduce traffic conflicts. Adding designated loading zones and geofencing increased driver compliance in stopping at the curb. A significant percentage of ride-hail vehicles stop to pick-up and drop-off passengers in the travel lane. Adding designated loading zones and geofencing reduced driver stops in the travel lane to load and unload passengers. But it was not a lack of curb space alone that influenced driver activity. Between 7 percent and 10 percent of drivers still stopped in-lane even when the zones were empty. Enforcement is necessary?
Combining passenger load zones and geofencing reduced the average amount of time drivers stopped to load and unload passengers. For example, 90 percent of drop-offs took less than 1 minute 12 seconds, which is 42 seconds faster than the average time with the added load zones alone.
Passenger satisfaction increased when curb space was designated for pick-ups and drop-offs. In the study, the percentage of riders rating their curb experience as very good or excellent went up by 5% for pickups and 34% for drop-offs.
The Urban Freight Lab collaborated with the Sustainable Transportation Lab and the Seattle Department of Transportation (SDOT) to design a data-driven research methodology that combined video analytics, ground observations, user surveys, and existing city data to assess a new approach to curbside management in a congested urban environment. SDOT installed additional passenger load zones and coordinated with the service providers to institute a geofence in the area.
The results of this study might be relevant for developing 'intelligent access' technology, smart (digital) enforcement and geo-fencing for city logistics delivery vans unloading goods to discourage double-parking and reduce traffic conflicts.
Source: UW Urban Freight Lab