Building Information Modelling (BIM) has been hailed as a revolutionary technology and information management process that facilitates collaboration and more efficient design and construction processes through innovative 3D modeling software, open access to information and multidisciplinary integration.
Most common documented applications of BIM have been in the areas of architectural and structural design, quantity surveying, construction project management, and sustainability with very limited peer-reviewed studies on construction logistics management.
Review of BIM and logistics
The aim of a recent UK study by universities of Oxford and Yaounde is to investigate how BIM can be applied to construction logistics management. This study adopts a desk-top approach, with articles sources from renowned scientific databases such as ScienceDirect, Google Scholar, and Emerald. The study culminated in the identification of benefits and barriers of adopting BIM for construction logistics management.
Functionalities
A robust and well thought out construction logistics management strategy is critical to securing optimum construction site efficiency and safety, and decreasing waste.
It is also apparent that BIM has a number of applications to both the logistical management of materials delivery and distribution, as well as dynamic site layout planning, some of which are already being utilized on large developments in the UK. The study looked at different logistics functionalities, such as Construction Consolidation Centres, Just-in-time deliveries, delivery management systems, prefab and demand smoothing.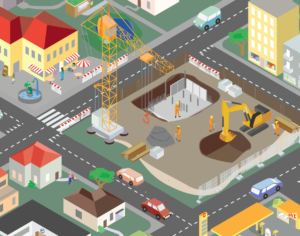 The adoption of BIM will result in the UK construction industry moving incrementally closer to UK government performance targets. However, it is possible that much more could be done to accelerate this improvement. Through an enhanced adoption of construction logistics management techniques fortified by BIM-based systems and working procedures, acceleration in this evolution may be realized. This can be achieved, in part, through establishing a policy of BIM software training for site-based project management staff. Increasing the proficiency in the use of BIM software systems will encourage more frequent and consistent use of the 4D models that are already being produced for many construction projects, this improved method of construction site coordination and control will subsequently feed into more effective, efficient and safer logistics management processes.
Future research
Future research should build on this to conduct comprehensive quantitative and qualitative research to gain an understanding of using BIM systems to manage construction logistics. Furthermore, the research encourages further inquiry into whether logistics efficiency can be enhanced through an improvement in 4D BIM model interaction among site-based staff.
Source: Whitlock, K., Abanda, F. H., Manjia, M. B., Pettang, C., & Nkeng, G. E. (2018). BIM for Construction Site Logistics Management. Journal of Engineering, Project, and Production Management, 8(1), 47.