The light commercial vehicle, or delivery van, is the workhorse of both companies and the self-employed in the Dutch economy. And with good reason: it is a multifunctional and flexible mode of transport and compared to (smaller) trucks and cars it is also cheap to buy and use. Moreover, a 'lighter' drivers license B is sufficient to drive a light commercial vehicle (LCV).
All of these are reasons why the Netherlands has more than 923,000 LCVs or roughly 1 LCV per 9 working Dutchman. And, the number of LCV's is increasing. However, in the Netherlands relatively little is known about the deployment of LCVs compared to other modes of transportation.
This prompted Connekt to ask a consortium to map out the situation concerning delivery vans in the Netherlands. The most important data on LCVs in the Netherlands are public and available through several sources, such as RDW (Netherlands Vehicle Authority), CBS (Statistics Netherlands) and RAI (automotive industry association). However, other data are often not publicly accessible because of privacy concerns. By gathering insights through additional research and combining these with the available data sources, it is possible to provide a better overview of the current characteristics and uses of LCVs.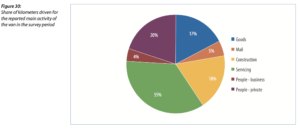 The use of LCV's
The objective of this research is to map out the fleet of LCVs in the Netherlands, identify developments that have taken place in recent years, and establish how Dutch companies and the self-employed use LCVs for their daily activities. Specific attention is given to the question of how different types of delivery LCVs (based on age and size) are deployed for different activities. An important objective derived from this research is to 'fact check' a number of 'myths' that exist in the Netherlands concerning (the deployment of) LCVs regarding CO2 and low emissions zones, the use of LCV's for parcel deliveries and the size of the vans.
You can download this study here.