Urban Freight Lab researchers have published a new paper, "Identifying the Challenges to Sustainable Urban Last-Mile Deliveries: Perspectives from Public and Private Stakeholders," in Sustainability. This paper is part of the project on Roadblocks to Sustainable Urban Freight, funded by Amazon. Researchers interviewed stakeholders from both the public sector and private industry to identify and understand the barriers to decarbonizing urban freight.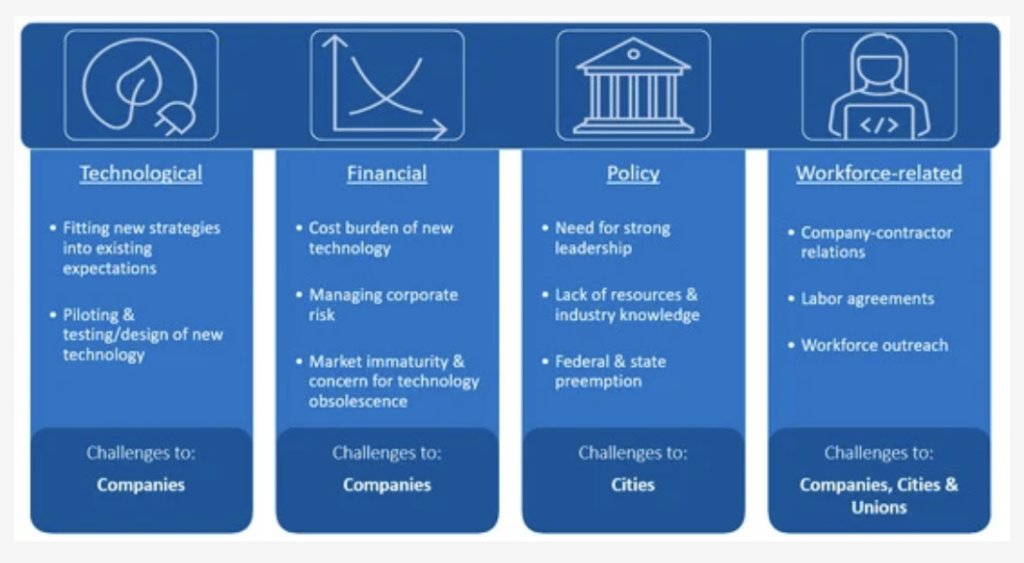 The urban freight ecosystem is a complex network of both public and private agents. While reducing CO2 emissions from urban freight requires collaboration and coordination between those agents, their motivations, strategies for achieving those goals, and the challenges they face may differ.
UFL researchers interviewed officials from purposefully sampled city departments in North America and private companies involved in city logistics. The challenges faced by cities are related to a lack of leadership, resources, industry knowledge, and hurdles caused by federal and state laws. Cities desire to influence the urban freight market by offering incentives rather than restrictive policies. However, it isn't easy to create effective policies without an understanding of how many trucks operate within city limits and what their operational needs are. In addition, dedicated resources are required by every city to tackle urban freight challenges, which must be mandated by city leadership.
Companies face challenges related to technology, cost, and workforce. First, there is a strong desire to maintain commitments to customers, which can drive the types of strategies and technologies that a company pursues. The cost and timeliness of deliveries can be a challenge to technologies such as cargo bikes and electric vehicles if they do not obtain the same capacity or efficiency as existing delivery vehicles. Companies are also worried about making investments in technology that may become obsolete in a short amount of time. Finally, workforce relations pose a challenge to companies. The company–contractor relationship sometimes does not allow companies to choose which vehicles are available. When a new type of worker is required, workforce recruitment is also challenging for companies that are used to recruiting drivers.