During the International City Logistics Conference, 2019 Ron van Duin (TUDelft, Netherlands) presented his research parcels lockers in the Amsterdam De Pijp district. Currently, parcels are being delivered with large delivery vans which will usually deliver single parcels to doorsteps of their customers. The last mile is the most expensive logistics activity. In the literature, it is proposed that parcel lockers have a high potential to save costs.
The parcel lockers are distributed evenly in De Pijp. Walking distance on average is less than 5 minutes. The number of assumed parcel lockers located in de Pijp is 47.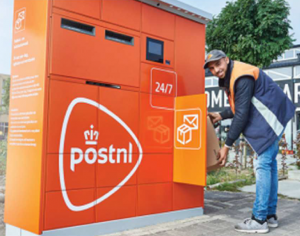 Based on the research findings the usage of parcel lockers is beneficial. However, the size and locations need to be determined precisely by the use of simulation modeling. These parcel lockers are delivered by three delivery drivers and the parcels are delivered by 3 delivery drivers.
Instead of having a total of 1475 stops for the whole delivery of 1770 parcels, this alternative delivery model has 430 stops for the normal delivery route and only 47 stops for the parcel locker route. The related daily delivery costs are €2704.85 per day, instead of €3210.49 per day. On a yearly basis, this could save up to €121,356.00 for the area of the Amsterdam De Pijp.