During the International City Logistics Conference 2019 Ivan Sanchez-Diaz (Chalmers, Sweden) presented his research on the time-efficiency of medium-duty trucks delivering pallets in city logistics. Variance in time affects the accuracy of route planning and service performance.  
The research used GPS and planning data from a major logistics service provider in Sweden to identify the typical activities in urban distribution tours, quantify the time required by drivers to perform each of these activities, and identify potential initiatives to improve time efficiency.
The results show that driving represents only 30% of the time, another 15% is spent on breaks, and the remaining 55% is used to perform activities often considered as ancillary.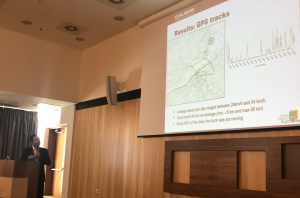 A focus group with the drivers and some interviews revealed several initiatives to improve time-efficiency. The initiatives with lower cost but high efficiency gains included coordination with receivers (pre-advice on upcoming customers, private loading zones signals), better planning (routing software, tour structure avoiding coming back to the terminal at noon) and equipment upgrades.
Although being one of the largest companies delivering parcels in Sweden, the company's use of technology, data analytics, and modern equipment is rather limited. This is a consequence of the low margins of the company compared to transport operators in the express parcels business, or transport operators requiring special equipment (e.g., construction, perishable goods). This shows that despite the rise in technological developments (e.g. automation, electric vehicles, big data, dynamic routing software) the penetration of these technologies will be very slow in certain industry sectors.
For more information about the project, click here.