During the IAA transport fair in Hanover, Gazelle presented the new D10 e-cargo bike. With the D10, Gazelle, in collaboration with Aluca and mobility as a service start-up, is responding to DOCKR's demand for smart, fast, green and efficient 'last-mile' city logistics solutions.
Mobility as a service
The D10 is part of a broader vision of the development partners – Gazelle, DOCKR and Aluca – in the field of 'mobility as a service' and zero-emission cities logistics.
The D10 e-cargo is suitable for the 'last mile' delivery of parcels and (refrigerated) food in urban areas. The maneuverable D10 does not suffer from congestion. The cargo bikes are admitted on cycle paths and can even go on sidewalks. Moreover, the e-cargo bike is welcome in every low emission zone.
City logistics
The Gazelle D10 is an e-cargo bike with electric pedal assistance. It accommodates up to two standard luggage boxes with Euro Pallet dimensions (1,200 x 800 x 1,100 mm), a capacity of 1 m3 and a load capacity of 100 kg. The pedal support of the D10 is electrically and locally emission-free with a 250W Bosch Performance CX engine in combination with a battery with a capacity of 1,000Wh. With this support, a maximum speed of 25 km/h can be achieved.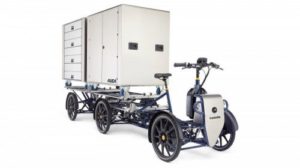 Boxz concept: containerization
In urban cities, the transfer from larger to compact means of transport is particularly challenging. The Boxz concept of the D10 is suitable for exchanging goods from truck to van in a standardized way and then without problems to the D10 cargo bike. Smart, fast and flexible switching is guaranteed. Aluca – a specialist in the organization of commercial vehicle applications – has developed the Boxz concept. The starting point is a luggage box with Euro Pallet dimensions (1.200x800x1.100 mm), one content of 1 m3 and a load capacity of 100 kg.
The transport bike has standard space for one box (D10) and even two (D20) in combination with a trailer. The smart Boxz concept has several advantages. The luggage boxes from both the left and right side of the bicycle are easy to install with a standard rail system and therefore very suitable for 'easy cross docking'. This means that the boxes are extremely easy to use at every stage of the logistics process: from the logistics center via truck and/or van to the D10.
Available from mid-2019
The Gazelle D10 e-cargo, which is to be produced at the Gazelle factory in Dieren (NL), is expected to arrive on the market in mid-2019. This autumn Gazelle, in collaboration with PostNL, will start the first pilots in Amsterdam (NL).
Picture: Gazelle