In the fourth quarter of 2020 'delivery' is now bigger than 'mobility'. Mobility (gross bookings fourth quarter 2020): $6.79 billion, down 50% from a year ago. Delivery (gross bookings): $10,1 billion, up 130% from a year ago. For all of 2020, Uber's net losses amounted to $6,8 billion, around a 20% improvement from a staggering $8,5 billion loss in 2019.
While delivery is still way ahead in gross bookings, in terms of revenue Uber's core ride-hailing business has slightly surpassed delivery for the first time since the Covid-19 pandemic started. CEO Dara Khosrowshahi said on an earnings call that Uber sees "many many opportunities" in the global mobility segment as different regions recover from the pandemic. Timing for a full-blown recovery of the mobility business is highly dependent on when cities open up again, Dara added.
Last year, Uber acquired a marketplace tech company, Autocab, that connects riders with local taxi operators. Khosrowshahi suggested that as travel and commuting begin to increase, taxis will be looking to tap into demand and Uber can benefit. He worried whether Uber would have enough drivers to meet the demand he expects to encounter in the mobility segment as the pandemic slowly ends.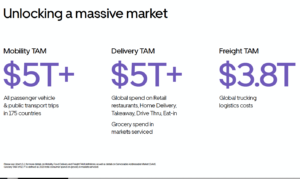 Earlier this month, Uber announced plans to acquire on-demand alcohol delivery app Drizly, which the company plans to integrate into Uber Eats, its food-delivery service. The deal was valued at $1.1 billion in stock and cash combined.
In 2020 Uber sold Uberfreight European activities to Sennder.