The transition from diesel to zero-emissions city logistics in cities is a significant factor in future urban freight transport. According to AUAS professor in City Logistics Walther Ploos van Amstel to achieve this affordably and reliably, companies should prepare smartly on five levels.
The Climate Agreement states that in 30 to 40 larger Dutch cities for the Green Deal Zero Emission City Logistics by 2025, medium-sized zero-emission zones have been established. These will apply to urban freight transport from 2025. A fierce ambition, which is likely to hit 40 thousand trucks and almost 1 million delivery vans in the Netherlands. Can they all no longer enter the city in 6 years?
Larger, but especially smaller, independent SME's are looking forward to this transition. How do you arrange for affordable and reliable zero-emission city logistics, while the OEM-supply of vehicles is not even available yet? Their business operations must change to become EV-ready. We have to think smartly five times to successfully prepare for zero-emission city logistics.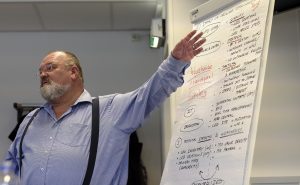 Smart vehicles
The first question is what is the right vehicle in 2025? The usual trade-in of the diesel delivery van for an electric delivery van is not smart. Consider the use of light electric vehicles, such as cargo bikes. There are already successful examples for parcel delivery, catering supplies, service logistics, and even in construction logistics. What will be the impact of autonomous vehicles?
Or, can operations be done without a vehicle, by another organization of the supply of materials? Is all that carstock really needed? Ricoh and Canon already work with walking engineers in larger cities.
Smart driving
With a short driving range and the necessary charging time, better, dynamic planning is required. The driving style and route choice determine how large the range is in practice. The new battery-electric vehicles have onboard computers that monitor vehicle performance, the status of the journey, the battery, and the driving style of the driver. Together with up-to-date traffic information, robust planning can be made for the reliable use of the electric vehicle.
The driver plays a major role in 'fuel consumption'.How can we encourage drivers to drive smartly? Many transport companies already involve their drivers with 'gamification' in smarter driving.
Smart charging
Local governments must facilitate a smart charging infrastructure. By far most light commercial vans are parked at night at the home of the florist, builder, or engineer. Trucks are charged at central distribution hubs. Are there enough charging stations there? Is there enough power?
And, if the delivery van or truck is in the city, can the driver then recharge at a shopping center or office location? Is there a charging-area for the construction vans at the construction site? And, how does the driver find the way to an available charging point?
For business parks where many vehicles have to charge a vision is needed on smart energy generation and distribution; vehicle-to-building-to-grid. Over time, energy-intensive companies must receive separate attention in spatial planning. The availability of electricity becomes a location selection criterion.
In addition to investments in charging infrastructure, investments are also required in smart charging. How can you distribute charging during the day for peak shaving? For providers of zero-emission mobility, there are opportunities here to offer new (energy) services.
Smart buying
Electricity is all but free. Diesel is for sale at every gas station for the same price per liter; creating a level-playing field. This is different for electricity. The prices at the charging pole vary and are not transparent, especially for fast charging. Then the electricity might be more expensive than diesel. Fleet managers must smartly buy energy services.
Smart governance
On the roadmap towards 100 percent zero-emissions city logistics, the local government plays an important role in intelligent access management; who may or may not enter the city? Privileges can help companies take the first step tot zero-emission vehicles with exemption from window times, use of bus lanes, and access to zero-emission loading and unloading areas. New traffic management systems can support digital enforcement.
Zero emission is necessary for the Climate Agreement in many cities and contributes to clean air. Many steps are needed to realize this affordably and reliably. Public-private partnerships are needed to enable the transition from diesel to electric city logistics. Let's not wait until 2025. Start taking the right, smart decisions today.