More than 1 in 6 Dutch people do their grocery shopping online. In just three years, Picnic has grown from delivering in Amersfoort to over 60 locations in the Netherlands and Germany. And, each day new customers join. Picnic's Joris van Tatenhove reports about Picnic's success in e-groceries on Medium.com.
With an ever-expanding consumer base, Picnic uses smart planning and innovative tech to ensure that everyone is able to buy high-quality groceries and receive on time, free delivery.
Picnic is revolutionising urban distribution
Joris about the Dutch e-groceries market: 'While e-commerce and online groceries continue to grow, retailers have not developed effective urban distribution to match consumer demand. Inefficient strategies result in cities becoming flooded with multiple delivery vans from the same company. In addition, the service that consumers receive is unreliable and people often wait hours for a delivery to arrive. As customers look for a better service, more convenient home delivery and on-time arrival, the stage is set for a radical improvement in urban delivery'.
With a fleet of electric vehicles (ePVs) designed to deliver in the urban setting and a friendly team of 'Runners', customers enjoy groceries at a low price as well as free delivery to the doorstep. By selecting a 20-minute delivery window, there's no more waiting for groceries, and as 99% of Picnic's orders arrive on time, customers trust Picnic to be punctual. On top of that, an evolving algorithmic model plans distribution so that ePVs only visit a street once and sufficient time is scheduled for a customer-friendly service.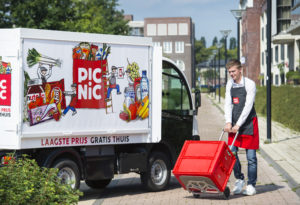 The ePV
A well-designed delivery vehicle is also critical to a short drop time. Most delivery companies have too many requirements, they want vehicles that can drive long distances at high speed as well as deliver in cities and residential areas. Ideally, on the outskirts of a city, a delivery vehicle would become smaller, shed the ability to travel long distances and switch from diesel to electric.
As Picnic's distribution centres are located almost within the areas they deliver, Picnic's ePVs are not constrained by having to travel at high speeds or long distances, so the fleet can be adapted to the specific urban situation.
The ePVs are small, and 'Runners' are able to park neatly next to each house. Groceries are easy to find and unload. This saves minutes, allowing 'Runners' to carry groceries into a customer's kitchen, better explain the concept of Picnic and collect any returns for recycling.
Planning dilemma
In the meantime, with innovative technology and smart planning, Picnic works towards keeping customers happy while paving the way for logistics and urban delivery. Last mile logistics is difficult and not easy to get right. The Travelling Salesman Problem describes the dilemma of how a salesman tries to efficiently use his time to drive to a maximum number of cities, give sales pitches and, hopefully, sell products.
Picnic has developed a new solution to this well-known problem. A team of software developers and data scientists have crafted an in-house distribution model to find optimal routes for thousands of deliveries at the same time as minimising vehicle usage. Otherwise known as the Vehicle Routing Problem with Time Windows (VRPTW), this cuts the time the 'Runners' spend driving to delivery locations and allows for highly efficient fleet management. Moreover, the distribution model ensures that they only visit the same street once a day.
Advanced AI techniques
By using a combination of advanced AI techniques with cloud-based computing, Picnic's distribution model processes millions of data points in just milliseconds. As their customer base is ever-expanding, the distribution model is scaled across an increasing number of delivery locations.
On the minute arrival
After a Picnic customer places an order, they first select an hour delivery window. Once the delivery route is planned, this time-window is reduced to twenty minutes. In addition to a short delivery window, customers know to the minute when Picnic arrives. The exact location is given in a Picnic-app feature, the 'boodschappenradar'; 'Timo will be with you in 4 minutes'. Thanks to this, people are ready waiting for at the door, making deliveries even quicker.
Based on Medium.com
Author: Joris van Tatenhove – Distribution developer – writing algorithms to make Picnic the most efficient milkman on Earth!