April 16 is the inspirational Conference on the occasion Of The 10th Anniversary Of Binnenstadservice in Nijmegen. The conference gives the floor to important stakeholders in city logistics to exchange operational experience, knowledge and innovations on European Urban Freight consolidation.

Growing Green City Routes aims to invigorate participants with a unique programme that showcases actionable tools and information on urban freight consolidation. This conference will show you the way by using the practical approach of parallel action for industry and government known as the triple X and triple P vision.

Building the Smart City Hubs Community
On this day all participants can subscribe for a membership of the Smart City Hubs community. The attendance fee of this conference gives free membership for the first year.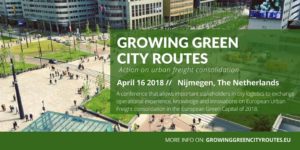 For more information, click here.