The recently started JPI Urban Europe MIMIC project wants to demonstrate how smart governance concepts can be used as an aid in the construction and city planning processes to facilitate and support logistics to, from and on urban construction sites. The aim is to improve mobility and reduce congestion within cities and thereby reduce the negative impacts of construction sites on the surrounding communities.
The MIMIC project will result in increased understanding among authorities of how different types of construction logistics affect the environment, urban traffic flows, and mobility. Further, the implementation of smart governance concepts will enable a supportive platform for urban development decision processes, including analyses and optimization of construction traffic, and a sustainability impact assessment framework.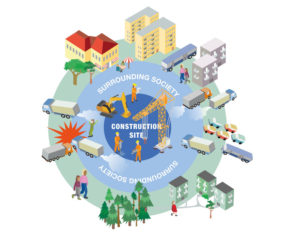 Partners in MIMIC are Lindholmen Science Park, Linköping University, AIT Austrian Institute of Technology, Vrije Universiteit Brussel, BERNARD Ingenieure ZT GmbH, SINTEF AS, Chalmers University of Technology, Brussels Mobility and Bellona.
For more information, click here.