From September 2019 up to and including January 2020, students of Rotterdam University of Applied Sciences provided the last mile for HoReCa establishments in the inner city of Rotterdam and Schiedam under the name HR Cargo for logistics service provider Nedcargo. The results of a first pilot in 2018 led to an expansion of HR Cargo from 2019.
During the research project, the students delivered a total of 32,238 kilograms of drinks to 63 unique customers. Before that, they drove 1,610 kilometers with three different electric vehicles and made 331 stops. This saves 1,349 kilograms of CO2 in the two cities.
The research question was: How does delivery with light electric freight vehicles (LEFVs) increase the efficiency, customer satisfaction and sustainability of the logistics operation? Forty students from the Logistics Management program did research this in practice for KennisDC Logistiek Zuid Holland. Project partners were Nedcargo, DOCKR, Routigo, and GroenCollect.
Tim de Ronde, student Logistics Management at the Rotterdam University of Applied Sciences: "The great thing about this project was to cooperate in the entire process. This way you get the best picture of the work and the circumstances that influence the operation. It was also interesting to actually do something with the obtained data and to process it in a study. Finally, I learned that tight and careful planning is half the battle, both in communicating with the driver about the arrival of the goods and in planning the journeys for that day."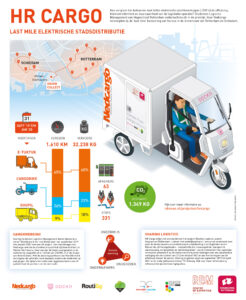 Source: Rotterdam University of Applied Sciences