The final 50 feet of the urban delivery starts when a truck driver parks in a loading- and unloading zone, includes delivery persons' activities as they maneuver goods over curbs, along sidewalks and through intersections and ends inside urban buildings when they complete their deliveries. There is a lot of hidden time and cost the final 50 feet of delivery.
The Final 50 Feet program looks at methods to improve delivery and the last 50 feet of the supply chain, such as loading areas, traffic control and street design. The urban freight lab will pilot low-cost and high-value actions to optimize operations of goods. New York Truckstop reports about it.
There are two key goals to studying the final 50 feet:
Reduce truck dwell time:

Lower costs of delivery.
More efficient use of loading- and unloading zones creates more capacity without building additional spaces.
Leave room for other delivery vehicles to move.

Reduce failed first deliveries:

Improve customers' experiences.
Lower traffic congestion in cities, as delivery trucks could make up to 15% fewer trips while still completing the same number of deliveries.
Cut costs for the retail sector and logistics companies.
Cut crime and provide a safer environment.
Today, with growing urban freight movements, curb space is in short supply and it is only going to become more important. "Tickets are eaten as the cost of business because there are no other alternatives. The system must allow people to do their work without forcing them to engage in illegal behavior. Without actually building management change you haven't affected behavior." According to Barbara Ivanov, Director Urban Freight Lab at the University of Washington, when asked about ticketing during a webinar, given through Eno about the final 50 feet.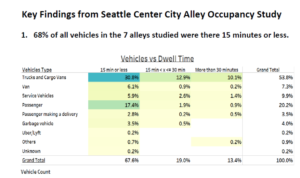 Time and cost reductions
Based on the data there are three major strategies for time and cost reductions:
Install common carrier Locker Systems (mini distribution nodes).
Require developers to provide loading space in every new building. This is in conjunction with providing curb space for trucks NOT in lieu of.
Use integrated technologies to manage the curb space in real time.
The Urban Freight Lab tested the theory of Common Carrier Locker Systems in the Seattle Municipal Tower, hoping to develop a functional business model in public spaces that any retailer, goods delivery system, and the user may access. With a 2.6-minute walk from loading bay to the locker, 0.6-minute time to load the locker, and a 2.4-minute walk back to the loading bay, this test resulted in a 78% reduction in total delivery time.
Source: New York Truckstop