Service engineers install and repair charging stations and solar panels for sustainable energy but still drive around in diesel vans. In the Netherlands, service logistics is responsible for 25 to 35% of the kilometers driven by vans and for 10 to 15% of the CO2 emissions from road freight transport. So how do we achieve emission-free transport for service engineers?  After two years of research, a consortium of universities of applied sciences, businesses, sector organizations, and the City of Amsterdam presents the results of the 'Go Electric' project.
Research on zero-emission service logistics
Together with HAN Automotive Research, Techniek Nederland, Unica, ENGIE, Heijmans, and the City of Amsterdam, among others, the Centre of Expertise for Urban Technology at the Amsterdam University of Applied Sciences has conducted applied research into the use of emission-free transport for service logistics. Service logistics involves the transport of personnel and materials for installation, repair, and maintenance activities.
It is typical for service engineers to each have their own van, to drive from job to job with a large variety of parts and tools, and to take their vehicle back home with them after work. This can and must change in order to realize the ambitions of the Dutch Climate Agreement and to be able to continue to serve customers efficiently in car-free areas. Recently, the City Logistics Implementation Agenda was signed by 19 Dutch municipalities, firmly putting ambitions for zero-emission zones on the agenda for 2025-2030. As a result, service organizations need to prepare themselves for diesel-free operations. The 'Go Electric' project has drawn up recommendations and examples for service organizations and for providers of zero-emission transport solutions.
A diverse group of providers took part in the research project, including wholesaler Technische Unie, logistics service provider Deudekom, charging infrastructure provider Laadpunt Nederland and suppliers of means of transport Urban Arrow, Easy Go Electric, DOCKR, and Arval. The range of solutions on offer in the zero-emission transport market is diverse, growing, and improving. The action radius of electric vans is increasing, the adoption of cargo bikes is rising, and opportunities for cooperation in logistics hubs, new supply concepts, and smart charging solutions are all increasing. Despite this, the share of zero-emission transport among service organizations in the Netherlands remains stubbornly low.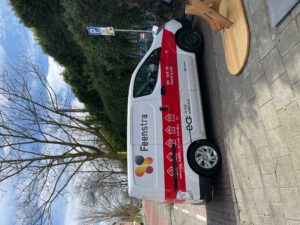 Field research with service companies
Using case studies, workshops, interviews, and trip data analysis, and with the aim of accelerating the transition to zero-emission transport, practical knowledge was developed about logistics concepts, charging strategies, and behavioral interventions. In their final report, the 'Go Electric' research team makes the case that one-for-one replacement of diesel delivery vehicles with electric ones is not the right approach. The transition to zero-emission service logistics involves strategic, tactical, and operational choices in four aspects of business operations. With this broad approach, improvements in service logistics are possible; with less travel time for service engineers, fewer lost hours, and fewer vans.
Changing business models
The extent to which zero-emission service logistics can be achieved depends on decisions about:
Customers and Activities
The size, location, requirements, and demands of clients and end-customers influence the extent to which new service logistics concepts can be realized. From the tender stage onwards, large organizations (such as educational institutions, government bodies, and offices) can aim to bundle all deliveries for technical maintenance into a single trip. Or, taking it a step further: consolidating these with the delivery of parcels, cleaning, and office supplies. In this way, 'sustainable transport' becomes a criterion for awarding contracts. Contracts should also include agreements on supply chain cooperation, the use of charging infrastructure, and storage facilities for tools and materials (e.g. lockers or containers for delivery).
Personnel and Behaviour
There is a shortage of technically trained personnel in the labor market. This is both a motivator and a challenge for zero-emission service logistics. A motivator because service logistics solutions can boost employee efficiency. A challenge because employee satisfaction is crucial for service organizations. Employee adoption is an important prerequisite for the successful implementation of zero-emission transport. Adjustments to recruitment and selection policies, mobility policies, and operational management of engineers can further facilitate adoption.
Logistics and Planning
By outsourcing deliveries of materials, planning trips more dynamically, and using artificial intelligence to better forecast maintenance work, the deployment of zero-emission transport becomes more straightforward. By reducing the number of supplies kept in vans and by organizing them more efficiently, it is possible to use smaller models, which has a positive effect on the action radius of zero-emission vehicles. Case studies show that by planning around neighborhoods or city centers, it is possible to make use of cargo bikes in a cost-effective way. During the 'Go Electric' project, providers of logistics space and shared vehicles also came up with joint propositions in which service engineers switch to a cargo bike on the outskirts of the city, thus saving traveling time and parking costs.
Vehicle Fleets and Charging Infrastructure
One strategic choice that organizations will be able to make in the future will be to not provide engineers with a fixed vehicle, but to use flexible leasing contracts and shared vehicles. A suitable vehicle can be chosen per day, week, or month depending on each employee's working locations, as well as the parking and charging facilities available. The reliable availability of vehicles is essential here. In the case of zero-emission vehicles, availability also entails that vehicles are supplied with sufficient energy.
Results from 'Go Electric' research project were presented in March 2021 during a live-stream event. It can be watched (with ENG subtitles as from mid April) at www.hva.nl/gasopelektrisch.