New York City will begin testing local delivery hubs this summer to reduce truck traffic and emissions in favor of more sustainable transportation options. Microhubs in the city will provide designated curbside or off-street locations for trucks to unload items onto low-emissions transportation modes, like electric vehicles or cargo bikes, for last-mile delivery.
More than 80% of New Yorkers receive at least one package at home each week, and 18% receive packages on four or more days per week, leading to an increase in delivery vehicles on city streets. Today, nearly 90% of the city's goods are moved into and around the city by truck. This overreliance on trucks exacerbates traffic congestion, contributes to public safety challenges on our roadways, pollutes our air, stresses our aging infrastructure, and negatively impacts the quality of life. Local delivery hubs offer the promising potential to reduce the number of large trucks on local streets by providing safe spaces for truck operators to transfer deliveries onto more sustainable modes of transportation.
The city will launch up to 20 sites to test curbside and off-street delivery sites in the program's first phase, beginning this summer and extending into the fall.
Locations will be selected based on proximity to high-density areas with mixed land use, truck routes; transit; bike lane networks; and engagement with local communities and businesses. Through a DOT-issued Request for Expressions of Interest (RFEI), the agency collected feedback from 23 respondents—including community organizations, freight operators, and technology, vehicle, and infrastructure providers- to help shape the program and pilot locations.
During the first phase, DOT will monitor hub operations, collecting data and refining strategies to ensure equitable implementation and enforcement for small and large companies. Phase two of the program, which will run from fall 2024 to 2026, will expand the number of local delivery hubs and delivery partners, explore regulatory changes and incentives, examine new technology and amenity options, and gather lessons to develop a permanent local delivery hub program. A final report on the program is targeted for late 2026.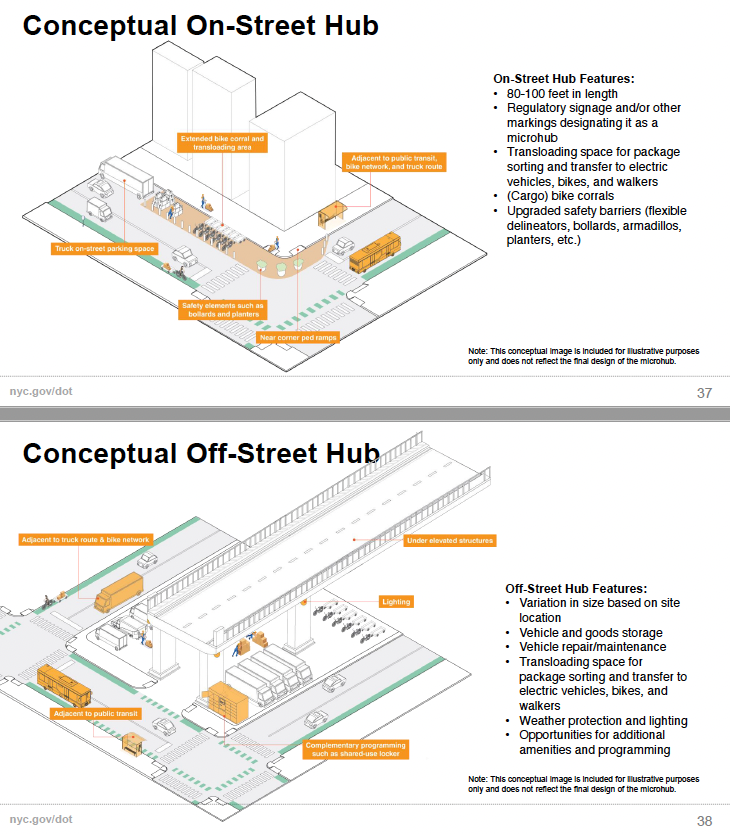 "New Yorkers are receiving more deliveries than ever before, and we are pursuing creative ways to make these deliveries cleaner, safer, and more efficient by reducing the number of delivery trucks on our roads," said NYC DOT Commissioner Ydanis Rodriguez. "These hubs will help better organize last-mile deliveries and support small and large businesses' economic recovery as we emerge from the pandemic."