According to Dutch RAI/BOVAG on January 1st, 2018, there were 957,239 commercial vehicles ≤ 3.5 tons in total on the Dutch roads (fleet). The amount of commercial electric vehicles on January 1st was 2,208 (0.23% of the total). Since January 2018 the number of electric vehicles increased 495 to 2,703 at the end of August 2018.
On January 1st, 2018 there were 136,939 commercial vehicles > 3.5 tons on the roads in The Netherlands (fleet) of which 81 (0.06%) were electric vehicles.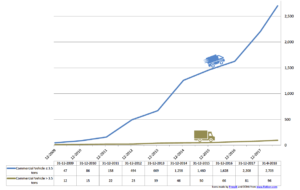 Of the commercial electric vehicles ≤ 3.5 tons a large majority consists of the Renault Kangoo and the Nissan E-NV200, but also the light electric Goupil. The commercial electric vehicle > 3.5 tons is at a very early stage of development. The Fuso Ecanter and GINAF E2114 are at the 1 st and 2nd position in the top 10 ranks.