In countries like the UK and the US, retail space is now increasingly being used to accommodate showrooms for online retailers. In their quest for wider audiences, retailers are joining forces with logistics providers to incorporate online sales into their business models.
The retail real estate market has only grown slightly in the past few years, while logistics has grown very strongly. This is largely due to the increased share of e-commerce, which drives the demand for new distribution centers. As a response, many brick and mortar retailers are now trying to adapt and enhance their ability to sell their products online instead of investing in (new) physical retail locations.
Urban distribution centers
As a result, the demand for logistics facilities is growing significantly. The rising demand for logistics real estate and the rapid delivery times now promised for online purchases have led to the introduction of smaller urban distribution centers (DCs). Urban distribution centers are located closer to cities in order to reduce delivery times in heavily congested areas such as London.
These are an integral part of same-day delivery concepts like Amazon Prime, whereby products are delivered within an hour. Although these urban distribution centers are a relatively new concept, major real estate investors have backed them early, expecting major growth in this market due to the continuing rise of e-commerce.
Real estate markets
The rise of e-commerce is also having a major effect on real estate markets. For example, in the Netherlands, the growth of the e-commerce sector has led to an increase in the demand for logistics space. With no sign whatsoever of any reversal in this trend, e-commerce is set to continue to gain market share.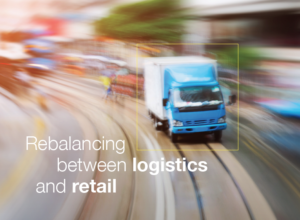 Savills published a new study on the logistics property market in the Netherlands. What is the outlook for the e-commerce sector? How large could logistics real estate get in the Netherlands? And what does the future hold, given the specific spatial characteristics of the Netherlands and developments in other countries?
In 2018 YTD, €974 million was invested in the Dutch logistics real estate. The share of cross-border investment remains high and now stands at 73%. Major foreign investors include Germany, the UK, and the US.
New hotspots
New hotspots for e-commerce retailers which are located within reach of several larger cities. Since the need for urban DCs in the Netherlands is limited due to the relatively small distances between the country's major cities, 'agglo-logistics' is more likely to be the future of Dutch logistics real estate. This type of logistics facility is located outside current logistics hotspots but can serve many major cities and provide short delivery times.
Source: Savills