Dutch e-groceries company Picnic is celebrating its first five years. Maybe they don't make a profit yet; Picnic chooses to grow fast. But, those first five years brought disruptive and inspiring lessons about creating 'rust, reinheid en regelmaat'. Or as Picnic states: milkman 2.0.
Focus
The most important lesson is Picnic's focus. Not everyone, not everything, and not everywhere. With a relatively small assortment, a limited number of time windows from which the consumer can choose, only in carefully chosen neighborhoods and with a controlled rollout in the Netherlands and Germany. Despite a limited number of time windows, the consumer is immediately told when ordering at what time the groceries will arrive. Delivery? At Picnic, it's for free. Due to the low minimum order value, customer retention is high. Consumers buy frequently, just like that old milkman.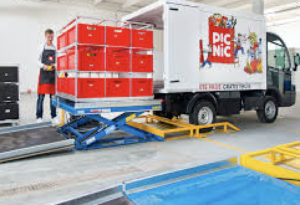 As a new consumer, you may have to wait until a spot comes available in the Picnic delivery network. Picnic deals with it playfully. A 'wait softener' was installed for the many thousands of customers who were not yet allowed to order. As an 'online only' player you don't harm the existing stores. With Albert Heijn Compact, Dutch competitor Albert Heijn now also seems to opt for less complexity.
Stuff
We can learn a lot from the logistics 'stuff' at Picnic; warehouses and vehicles. Not a large van, but light electric vehicles that could easily and safely drive between busy traffic in cities. Picnic is ready for the car-free neighborhoods and zero-emission zones of the future. Picnic is developing its own innovative new delivery vehicle. Could it also drive autonomously? Like a dog following the delivery guy.
With the move to its own central warehouse in Utrecht (NL), Picnic enters the future with robotization. Efficiency in handling is a prerequisite for success with online groceries. The containers that are prepared there (per trip) are transported by large trucks to city hubs where they are easily transferred onto the delivery vehicle. Together with producers Picnic is thinking about 'e-commerce ready' packaging; less air and modular so that picking robots can do the work.
Fluff
Picnic is a champion in the world of 'fluff'; the smart use of big data. The products are as fresh as possible, with the prevention of food waste in the supply chain. Order completeness (on time in full no error) is sky-high. This is only possible if you support the best decision-makers with the best supply chain data.
Picnic uses 'big data' to make the seemingly unpredictable predictable (such as forecasted delivery time per address). With precision-guided planning, Picnic avoids slack in delivery capacity. Picnic learned that existing logistics software could not plan precisely nor dynamically. Developing software in house-made disruption possible. If other delivery companies with finely-meshed distribution set out ideal routes in the same way, there are 25,000 less environmentally polluting delivery vans needed in Dutch cities. This is not only good for the environment and livability but also would save the Dutch logistics sector 1.5 billion euros per year.
Free delivery does exist
The future cooperation with German Edeka and the plans for further expansion in France, the Netherlands, Germany, and the United Kingdom. The sophisticated logistics, the purchasing power together with Edeka (and soon Picnic private label products) and a great team, offer prospects for another 5 great years. And, I predict, profit at the bottom of the line! Free delivery does exist.
Walther Ploos van Amstel.